The low cost, extended functionality and openness features of Progea Movicon 11 SCADA are proving a winning formula for control system specialist, Genesis Controls. The Birmingham-based systems integrator has already completed four successful projects using Movicon – 'with many more in the pipeline' – since the recent launch of the SCADA package in the UK by Products 4 Automation.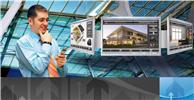 Genesis has over 20-year's experience of providing control and monitoring systems to sectors such as Process, Chemical, Waste-to-Energy and Automotive. Over those two-decades the company has used SCADA packages from many manufacturers, establishing itself as a leading supplier in its chosen markets.
"Movicon is the latest SCADA package that we have used", said Tim Osgerby, of Genesis Controls. "It is extremely flexible, is incredible value for money, and offers levels of openness that we just don't get from other SCADA packages. Unlike other graphical-based systems, Movicon opens things up: it exposes objects that can be manipulated enabling complicated tasks to be achieved without having to write complex pieces of proprietary software. This is a very useful time and cost saving facility."
"We also like the fact that, although Movicon is a low cost SCADA, it integrates all the features – and more – of far more expensive packages. The package has many inbuilt tools, and includes Comms Drivers (nice to have them in there!) and a Historian – which is usually a bolt-on item – at no extra cost."
"There is no doubt that the many features of Movicon – not least its cost – are enabling us to win new business. We have already quoted for, won and successfully completed four projects using the SCADA, and have a number of others in the pipeline that we are confident of winning. Our current flagship Movicon application is a Biomass Pyrolysis project, undertaken in conjunction with a major university.
Pyrolysis is the thermal decomposition of biomass occurring in the absence of oxygen. It involves heating the biomass to around 700oC to release various gases such as Methane and Hydrogen – which can be captured and used – but, crucially, not Carbon Dioxide. Instead, the process produces pure Carbon, which can be used as a soil enhancer, actually helping to draw down CO2 from the atmosphere.
"Genesis Controls is the latest leading systems integrator to recognise the benefits of using Movicon SCADA – and we are talking to many others" commented Paul Hurst, MD of P4A, the UK agent for package. "The positive comments we are receiving praise the comprehensive nature of the package, with all major functionality built in – and no expensive cost add-ons. System Integrators are finding that the Movicon 11 package is costing on average 30% to 50% less than equivalent systems from competitive suppliers, with no sacrifice in functionality. The fact that there are no development fees with Movicon is also winning business for SI in what is a very competitive market."
About Movicon 11 SCADA
Movicon™ 11 is the first and the only SCADA/HMI platform completely based on XML and Web Services technologies, from Windows 7 to Windows CE™. The supreme openness and flexibility of the Movicon™ architecture makes it the perfect SCADA/HMI supervision solution, applicable to any sector in the world of automation.