A hotel sought out by the rich and famous for its understated luxury and discrete security, has employed Movicon industrial SCADA (supervisory control and data acquisition) to illuminate its extensive gardens and create a high-performance CCTV protection system.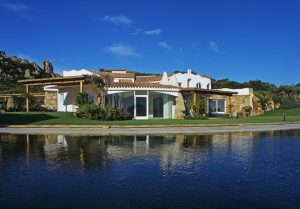 The Hotel Ramazzino on Sardinia's fabled Emerald Coast maybe one of the best kept secrets in European travel. Set in extensive grounds, with 77 guest rooms, 17 suites and six villas, plus pools, bars, restaurants and spas, the staff spare no effort to make guests' stays as comfortable as possible.
Scented myrtle and Mediterranean flowers, dazzling white beaches lapped by crystal clear waters, stunning rock formations hiding century-old trees – all contribute to making the Emerald Coast one of the most beautiful landscapes in the world. Fearing the ravages of mass tourism, as long ago as the late 1960s the local government set out to protect the region by creating legally protected environments while also encouraging the sort of visitors that could help the economy prosper. Hotels and other facilities were built to create employment and their grounds were subtly transformed into naturalistic gardens that blend delicately with the surrounding countryside.
Hotel Romazzino provides a hidden and tranquil haven near the harbour town of Porto Cervo and is the preferred destination of many discerning travellers. Concerned to be able to offer its guests the best yet most discrete safety and security, Romazzino's management recently asked security consultants SyncroSystems Srl from Oristano to design and install a cutting-edge system that would both manage illumination of the gardens with their many exquisite features and provide control for an IP camera surveillance system.
It was a requirement of the system that multiple cameras could be individually controlled from either of the two observation centres, so that security staff could monitor the entire grounds and quickly home-in on anything that caused them concern. Other system requirements included that the garden illuminations be programmable so that different features could be highlighted individually and at different times, that emergency, flood and spot lighting be available, energy saving modes be selectable, etc.
Given that the grounds were extensive, running to over 40 hectares, and in total many, many different lighting and camera options were required, SynchroSystems realised that a very sophisticated and reliable control system was required – something far more high-tech than is usually associated with lighting schemes. Several options were considered and eventually SyncroSystem called upon technology partner Progea to create an integrated illumination and camera control system based on a network of six PLCs (programmable logic controllers – basically small but powerful industrial computers), distributed around the grounds. Each PLC is connected to the others on a RS485 Modbus network and controlled by two touch screen supervision PCs (one server and one client). One PC is located in the control room in the hotel; the other is in a separate building, thus maximising system robustness.
The control system run on the PCs is based on Movicon SCADA/HMI software produced by Progea, which is recognised the world over as a leader in the field of SCADA and networked control systems.
Headquartered In Moderna, the heart of Italy's high tech industries, Progea pioneered the development of SCADA 25 years ago and has steadily developed the technology so that today it is robust, reliable, infinitely scalable, adaptable to multiple uses and ultra easy to use thanks to its intuitive touch screen control panels. It has systems installed on every continent, controlling processes as diverse as oil refining, manufacturing, biogas production, wind and wave power generation, distilling, brewing and winemaking, cheese production, pharmaceuticals, and mass transport information systems.
To meet the needs of so many different users, Progea has developed Movicon NeXT, a modular version of its SCADA control software. With this, system builders can integrate as many modules as necessary, including standard and special purpose modules to create exactly the system required for each application. Significantly new modules can be added to existing systems and old modules removed in a straightforward plug and play manner, allowing every system to be adaptable so that it can easily be modified to meet the changing needs of the application.
In an installation like Hotel Romazzoni it is inevitable that there will be regular requirements to adapt the system. With Movicon these can be done quickly and discretely – usually without disturbing the guests. Furthermore, the network is rugged, robust and reliable, requires little maintenance and can remain operational even on the rare occasions when a severe winter storm blows through.